LockIT Secure Data Storage
1.0.3
LockIT is your simple and secure solution to record sensitive information on your PDA and PC. Use it to record usernames, passwords, PIN numbers and much more.
LockIT Secure Data Storage Publisher's Description
Keep your sensitive information secure
LockIT™ has been specifically designed to record and encrypt sensitive information so that you can be assured your data is secure, even if your PDA is lost or stolen. It is ideal for recording bank details, pin numbers, passwords etc. which can be grouped into user defined categories. You no longer need to remember dozens of key codes or ID numbers just remember one simple phrase and you have access to all your information.
LockIT also provides full two way synchronisation to a custom PC application (Windows only) to enable data entry, maintenance, printing, exporting and backing up of your data. Using the intuitive interfaces on the PC and PDA makes entering and retrieving your information quick and simple.
Secure - Store account details, PIN numbers and passwords. LockIT uses recognised standards in data encryption to keep your information secure

Simple - Use the PC application to manage and maintain your data. Full two way synchronisation means your data is always up to date and available where and when you need it.

Flexible - Create pre defined labels and categories to organise your data and speed up data entry
LockIT is secure. Access to the application requires your secret paraphrase. This phase is used to generate a cryptographic key which encodes your data using industry strength block cipher encryption as defined by RSA Security Inc.
Beware: if you forget this phrase then your information is lost. Not even we (the developers) can recover your information.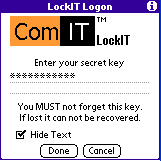 ...secret phrase can be hidden
from prying eyes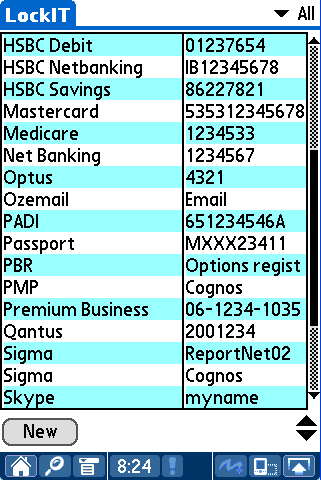 Main Form
LockIT is simple. The main form list view gives you quick access to your data.
Scroll through the list to find the required record or filter the list using the Category Filter. Click on a field to display the full contents of the record
Drag the column separator to resize the fields and display truncated data
LockIT supports all current Palm based PDA's and provides enhanced performance for Palm OS 5 and above. Hi Resolution and extended screen devices can benefit from full screen formats.
LockIT is flexible. Store any type of information using the 10 label and 10 detail fields.
Define any number of standard labels and use the drop down list to assign these to detail fields.
Store up to 250 characters in each detail field, that's 2500 character per record.
Assign categories to group and organise your records for quick retrieval.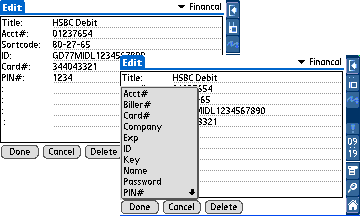 Edit Form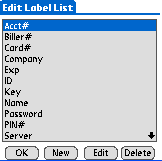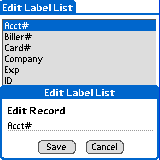 Edit pre-defined labels
Use pre defined labels to quickly assign titles to details within records. Customize them to suit your needs, or manually enter labels on the fly.
LockIT is designed to keep your information secure. Should your PDA timeout or turn off LockIT will instantly encrypt any changes and lock the application. No one can access you information without entering your secret paraphrase, not even us (the developers).
Desktop Application - LockIT also supports full two way synchronisation to a desktop PC application (Windows only).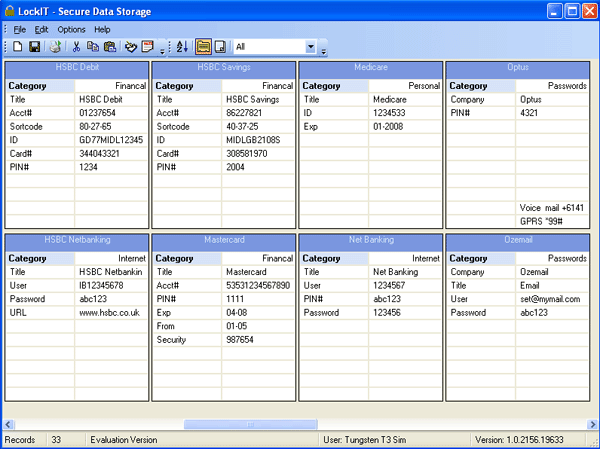 Desktop PC application
Use the simple editing features to manage and organise LocKIT data from your desktop PC.
Edit, create, delete, backup, export and print your data.
All changes will be updated to your PDA on the next Hotsync.
Look for Similar Items by Category
Feedback